World Mental Health Day 10.10.2021
World Mental Health Day on 10 October 2021 shows a green light to equality and reminds people that 'Every young mind matters!'
Join us and spread the message: 'Every young mind matters'!
Every young person deserves to be heard and engaged with – by their families, at school, at hobbies and in services. Genuinely engaging with young people allows us to strengthen their well-being following the trials and tribulations of the coronavirus pandemic.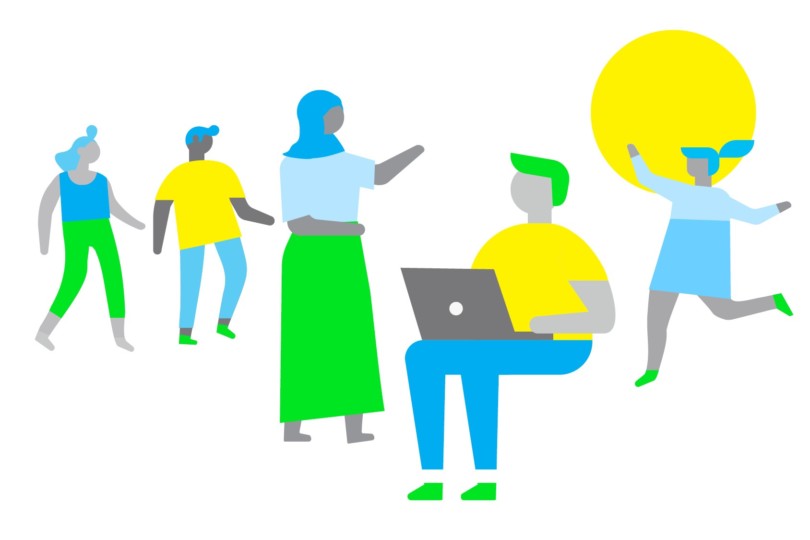 Here's how you can participate in the World Mental Health Day campaign: "Green light for equality" during 4.–10.10.
Engage with young people – genuinely, respectfully and equally.
Arrange green lighting on 10.10. at 6pm. Shine green light on your window, building or a monument.
Get dressed in green: choose green clothes or accessories. Share your photos on Instagram and FB with the hashtags #vihreäävaloa #greenlightequality #kymppikymppi #maailmanmielenterveyspäivä
Support MIELI ry's mental health work! Donate 10 euros on 10.10. Text MIELI to number 16499 (message price 10 €). Or via MobilePay to number: 50705.
Seven tips for adults for engaging with young people
How can you listen to and engage with young people better? To answer this question, we compiled a list of tips for adults who engage with young people in their work or families.
1. Take an interest in the young person and ask them how they are doing
Express interest in the young person. Sometimes the best approach is to simply ask: 'How are you doing?' Other times, asking: 'Is everything OK, would you like to talk?' might be more effective.
In addition to asking how they are doing, you can also express interest in the young person by simply being present for them.
2. If concerns arise, listen and provide support
If talking with a young person brings up concerns, it is OK to not have immediate solutions. Young people are not always looking for advice, but simply for someone to listen and take an interest.
If you suspect that the young person is having self-destructive thoughts, do not hesitate to ask them directly. It is not always easy to do so, but it is important that you do.
3. Foster empathy, hope and self-forgiveness
Adults can foster empathy and hope in young people and highlight positive aspects. Remind young people to also be self-forgiving and empathic towards themselves. As an adult, you can set an example here.
Encourage young people to take steps in their lives that are right for them. There is no rush to find your own path. Whatever you choose, everything can be a learning experience. Gentle encouragement often works better than dogged compulsion.
4. Consider the young person's perspective when it comes to disappointments
It is the duty of adults to remind young people to maintain a sense of perspective when it comes to disappointments.
Young people can be absolute and immature in their thinking. Even a single disappointment can result in throwing in the towel. Because of this, it is especially important for adults to show empathy.
You can also think about whether you could console the young person by offering experiences in place of the ones that did not pan out, for example.
5. Identify the young person's strengths
Help young people to identify their strengths, and make a habit of highlighting them out loud. Notice instances where the young person has been tenacious, helpful or witty, for example. Give spontaneous complements to the young person out loud and point out positive observations.
Identifying strengths can be enjoyable for both parties. You can also try coming up with positive sides to characteristics normally thought of as weaknesses together. Think back on your own youth: whose encouraging words made the biggest impression on you?
6. Spread joy and humour
Humour can help you find common ground with a young person, even if you are having trouble reaching them otherwise. In other words, try to engage young people in a playful manner and with some levity, with tongue in cheek. It is also important to be able to laugh at yourself. Positive humour is never about putting others down or ridiculing them. Laugh with young people, not at them.
7. Be open: learn from young people
Young people often display flexibility of thought, which helps them navigate our diverse, ever-changing world. When you engage a young person with an open mind, you may very well end up being exposed to a lot of enthusiasm, ideas, dreams, goals and fresh perspectives. What kind of new perspectives could young people offer you?
You should also ask young people what they would like to do or how they would like to spend their time. If a young person spontaneously suggests something new to do together, take them up on their suggestion and try it out!
Learn more about mental health and tips on healthy lifestyle
Oma Mieli – small changes to improve your quality of life.
Information available in English, Finnish and Arabic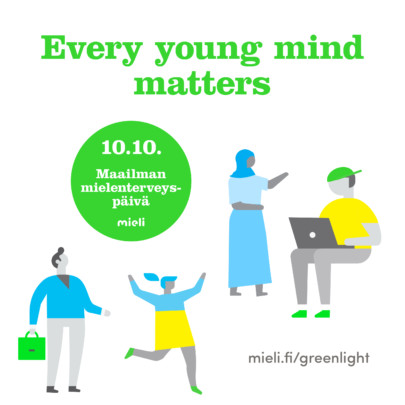 Green light equality campaign is MIELI Mental Health Finland's initiative for World Mental Health Day 10.10.2021.